In a survey of online smartphone user reviews, Microsoft's Windows Phone platform ranked first in customer satisfaction, despite being the least-reviewed.
The survey was conducted by market research firm Amplified Analytics. Out of a sample of 82,620 online customer reviews of smartphones published last year, the company focused on the 42 smartphones that were reviewed at least 100 times.
Smartphones based on Google's open source Android platform were the most reviewed by far, representing 75 percent of all eligible smartphone reviews. Apple's iOS platform was second with 17 percent of reviews. Rounding out the top five OSes were the BlackBerry OS (5 percent), Symbian (2 percent) and Windows Phone (1 percent).
The report attributed the preponderance of reviews for Android phones to "the availability of a large number of models from multiple brands."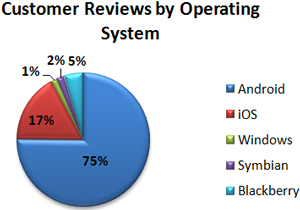 Source: Amplified Analytics
However, despite having the fewest reviews, Windows Phone rated the highest in user satisfaction. In a scale of 0 to 2, where 0 means "unacceptable" user experience, 1 means "satisfactory" and 2 means "delighted," Windows Phone scored 1.31 among reviewers. It was followed by BlackBerry (1.28), iOS (1.26), Android (1.18) and Symbian (1.01).
"[T]he Android OS enthusiasm did not translate into customer satisfaction lead as Windows phone customers' expectations were exceeded by their experience with a wider margin," according to the report. "One of the possible reasons is the relatively weaker support of Android by the developer's [sic] community that translates into the availability of applications."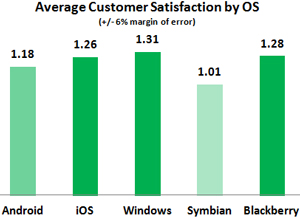 Source: Amplified Analytics
However, the highest-ranked smartphone device was not a Windows Phone -- it was the BlackBerry Style 9670, which scored a 1.60 customer-satisfaction rating. Trailing closely was the Android-based HTC Rhyme (1.59). The two lowest-ranked phones were the Motorola Citrus (0.72) and Droid 2 Global (0.82), both Android-based.
According to the report, reviewers were most concerned with smartphones' reliability, usability and battery life. Factors such as style, price and music player quality were the least important.
The survey's findings can be found
here
.
Official Site: http://is.gd/yZTt4O